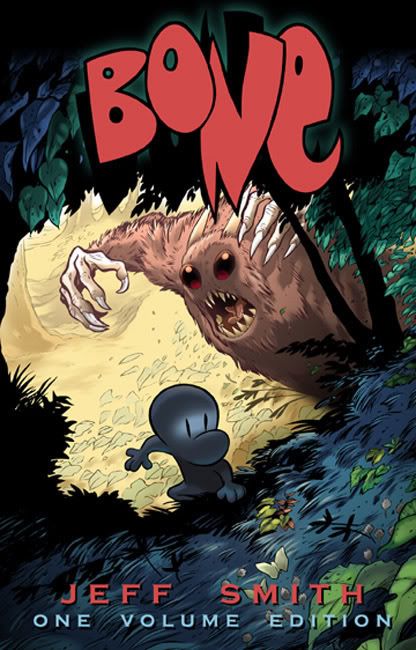 A review from Amazon:
Mere months after publishing the final installment of the long-running fantasy saga Bone, Smith collects all 13 years' worth of it in a single, massive volume. As many comics fans know, the series chronicles the adventures of the Bone cousins--plucky Fone Bone, scheming Phony Bone, and easygoing Smiley Bone-- who leave their home of Boneville and are swept up in a Tolkienesque epic of royalty, dragons, and unspeakable evil forces out to conquer humankind. The compilation makes it evident how fully formed Smith's vision was from the very beginning--although the early chapters emphasized comedy, as do the final pages, the tale quickly found its dramatic bearings. His remarkably accomplished drawing style, in the manner of such comics masters as Walt Kelly and Carl Barks, was fully formed from the start, too. Libraries that have missed out on individual Bone series titles should seize this opportunity to make up for the fact, and those who have collected the series all along will do well to acquire the collected edition to supplement or supplant those doubtless well-worn volumes. But be prepared for overdues: even the most voracious readers will be hard-pressed to get through this hefty, phone book-like tome before they're supposed to return it.
An excellent black and white comic book series. Incredible art and an incredible story. The Louisville Library has multiple copies of all of the volumes. If you don't like black and white, then you are in luck. The original volumes are being colorized. The library has most of those as well.
The individual volumes are:
"Out from Boneville"
"The Great Cow Race"
"Eyes of the Storm"
"The Dragonslayer"
"Rock Jaw: Master of the Eastern Border"
"Old Man's Cave"
"Ghost Circles"
"Treasure Hunters"
"The Crown Of Horns"
A truly great series that kids will love as much as adults. Do yourself a favor and check it out.