At comic-con Jeff Smith announced some new Bone projects!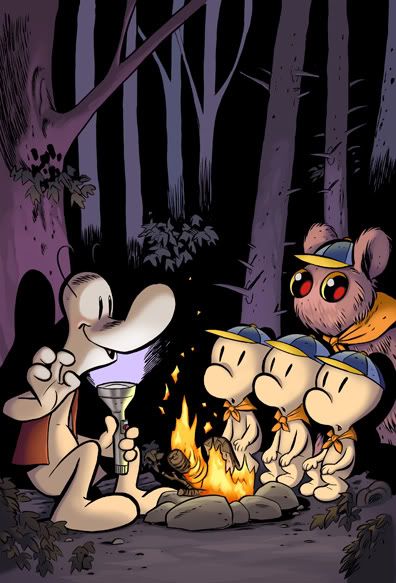 From the official Bone Website:

Last night I announced two new BONE projects; BONE: Tall Tales and BONE: Quest for the Spark.

Tall Tales, pictured above, is a major repackaging of a book I did with Tom Sniegoski a few years ago called Stupid, Stupid Rat-Tails. This new book, which takes place after the Bones have returned to Boneville, revolves around Smiley and Bartleby telling tales around a campfire to a group of young Bone Scouts (their names are Ringo, Bingo, & Todd!).

One of the tales will be the long out of print story I did for Disney Adventures that was not in the BONE books, and will now be returned to the BONE cannon with a beautiful coloring job by Steve Hamaker. Another will be the The Adventures of Big Johnson Bone, Frontier Hero, which appeared in black & white as Stupid, Stupid Rat-Tails. Tom Sniegoski, who wrote SSRT, has written two new Johnson Bone stories, both of which are pretty incredible. All now in glorious Hamaker colors! I will be writing all the new Smiley and Bartleby stuff.

BONE: Quest for the Spark is a slightly different kind of thing. It is not a comic; it's a novel. A series of three novels written by Tom Sniegoski that follow a new generation of Bone characters into the Valley.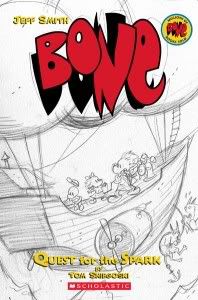 I was a bit unsure about this project when Tom first suggested it, but when I read the first book I laughed so hard, I agreed to do it. Scholastic was so blown away by it, that they decided to make it available in hardcover and wanted the illustrations, of which I think I'm going to do about twenty, full bleed and in color.

While not an official sequel to my comic, it will be fun to see some the characters again, like the stupid rat creatures, and Roderick the racoon.

BONE: Tall Tales is scheduled for Summer of 2010, and BONE: Quest for the Spark volume one, is set for 2011.